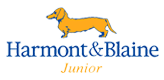 Harmont&Blaine's
GIRL
ARISTOCRATIC
She's still young, but Harmont&Blaine's little girl already dreams of sequins and frivolous touches to enlighten her cold winter days, as a modern princess that organizes an exclusive Christmas party.
The delicate tonalities of ivory, beige, and classical navy blue are enriched with precious stones, decorations and pendants in gold finishing. Embellished with luxurious embroideries and applications, skinny jeans and classical Oxford shirts are reinterpreted as deluxe items to be worn on party nights and can be matched with boucle sweatshirts thus creating a refined, but fresh and comfortable look.
COTTON CANDY
Lightness and sweetness inspire the newborn's lines (3/6 – 24/36 months). The brand's must-have (oxford shirts, all-over logo and flared small skirts) are suggested in the tonalities of milk-white, grey, pink and light blue, for a collection thought for tenderness, but enriched with small gold details on its chic side.
BOY
ARISTOCRATIC ACADEMY
Also this year, Varsity mood characterizes the style of Harmont&Blaine Boy. The dachshund's brand, as it is known, settles part of its philosophy on the principles of fraternity and team's strength.
This season, the college mood is strengthened through the choice of personalized regimental fabric with dachshund's logo. The logo becomes symbol of a school of thought to be translated into an inimitable style.
Jacket and coat are classically shaped, ideal items for refined winter events; they are made unique thanks to personalized regimental fabric finely used to revive the details, thus giving the items an exclusive preciousness.
That's how navy blue, bordeaux, deep green and sky blue on oxford shirts are accentuated with the richness of this particular fabric, deprived of its common use for ties and becoming a precious patch on super slim fit denim or a harmonious part of shirts' patchwork.
The sweaters, main item of fall/winter collections, become more refined thanks to metal personalizations hand-sewn and the thick-wool cardigan with shawl collar is designed to be put on since the first chilly Autumn days.
COUNTRY CLUB
Pure nature, open air and constant discovery. Harmont&Blaine interprets Country Club for little ones as a game of colourful vichy fancies harmoniously mixed between them; check is alternated with striped sweaters in warm tonalities or in the colour scale going from sky to electric blue. Also present the gilet V neck in thick moulinè wool to be matched with trousers in the tonalities of cactus and burnt land.
BOY/GIRL
ART&COLOR!
A homage to the most representative modern artists, a triumph of colours celebrating the biggest icons on international scene: Andy Warhol, Mondrian, Roy Lichtenstein, Paul Klee.
The mood is extended on both Boy and Girl lines, following the same inspirations and nevertheless interpreting them in a personal and original way.
The pop energy of Andy Warhol captures the dachshund in the serial repetition, it is represented with great impact printings on the boys' t-shirts and with multicolor studs on the girls' maxi sweatshirts.
The decorations on the shirts are a clear homage to Mondrian's geometries and they grant bright colours to lively kids.
Roy Lichtenstein participates with dotted fancies on coats and shirts for girls.
Finally, the delicate abstract art of Paul Klee dominates with a palette of pastel colours on the classical oxford shirt for boys.